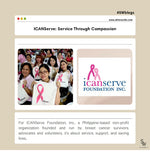 ICANServe Foundation, Inc.: Service Through Information and Compassion
October is Breast Cancer Awareness Month. But, for warriors and survivors, breast cancer awareness is not just a month every year. It's their life's work. For ICANServe Foundation, Inc., a Philippine-based non-profit organization founded and run by breast cancer survivors, advocates and volunteers, it's about service, support, and saving lives.
Service 
President and Head of Collaborations, Nikoy De Guzman, shares, "Before, puro info ang focus namin. Now, marami na kaming na-serve." 
Originally called Information on Cancer Services, ICANServe is a shortened version of its former name, and it has grown from being the go-to for the right information about the disease, to enabling proper breast care and early detection and diagnosis through their Ating Dibdibin initiative, a barangay-based free screening program.
Support 
Those who are diagnosed with suspicious lumps during screening will be given access to further tests and financial help through partner funding and grants. The program started in 2008, partnering with Marikina City's LGU. Ating Dibdibin has since worked with various other localities in and out of Metro Manila. 
"We are big on early detection," Nikoy shares. "It's through getting the correct information that women are able to take care of themselves better and become the boss of their own bodies. We share the word through high-impact social media campaigns." 
Saving Lives 
A survivor herself, Nikoy recalled an instance when a social media follower messaged the foundation to say that one of their posts prompted her to get tested. "She was positive for breast cancer. In a way, that post saved her life." Early detection also proved to be life-saving for Nikoy, who caught her second bout with cancer at its earliest stage. "I had one breast removed, and felt a lump on the other. When you feel anything out of the ordinary, get yourself checked immediately, that may just make all the difference." 
In support of their cause, proceeds from
SilverWorks' Hope Collection
will be donated to the ICANServe Foundation, Inc. Beyond seeing and posting pink ribbons every October, empower yourself and your loved ones to take charge of your breast health. Be correctly informed. Get tested. With the help of organizations like ICANServe, you should, because you can.