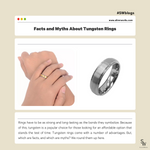 Facts and Myths About Tungsten Rings
Rings have to be as strong and long-lasting as the bonds they symbolize. Because of this, tungsten is a popular choice for those looking for an affordable option that stands the test of time. Tungsten rings come with a number of advantages. But, which are facts, and which are myths? We round them up here:
Fact: Your tungsten rings are NOT made of tungsten. 
Instead, they are made of a compound called tungsten carbide. A combination of tungsten and carbon, this compound is extremely durable and is able to withstand high temperatures, pressure and other elements. 
Fact: When worn, tungsten carbide does not cause any allergic reactions. 
This is one of the reasons tungsten carbide is ideal for wearers with sensitive skin. As they don't cause any allergic reactions, they're also perfect for everyday, long-term wearing. 
Fact: Tungsten is around 10x as hard as 18K gold and 2x as dense as steel. 
Meaning, tungsten rings are built to stand the test of time and various types of wear and tear. Unlike gold and silver rings, they also don't require regular polishing to maintain their shine. 
Myth: Tungsten rings are crack-resistant. 
While they're resistant to scratch and corrosion, they're not crack-resistant. Tungsten carbide is a type of ceramic, and while extremely durable, it still may crack under a certain amount of force. 
Myth: Tungsten rings are NOT removable. 
Yes, they are hard to remove, but they can be removed through cutting with vice grips or locking pliers. 
Myth: Gunmetal is the only color of tungsten rings. 
This is not entirely a myth as gunmetal is the natural color of tungsten carbide. But, it is possible to get tungsten rings in other colors such as silver and even gold, by way of plating or brushing with a satin finish. 
Considering getting tungsten rings? Check out our selections at SilverWorks and take your pick. 
Sources:
Encyclopedia Britannica
https://www.britannica.com/science/tungsten-carbide
Britannica.com
https://www.britannica.com/science/tungsten-chemical-element
Sciencedirect.com
https://www.sciencedirect.com/topics/materials-science/tungsten