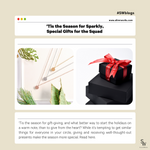 'Tis the Season for Sparkly, Special Gifts for the Squad
'Tis the season for gift-giving, and what better way to start the holidays on a warm note, than to give from the heart? While it's tempting to get similar, if not the same, things for everyone in your circle, especially when shopping at the last minute, giving and receiving well-thought-out presents make the season more special for anyone.
Your friendship group consists of unique personalities; match your present to each one. Check out our picks for your squad.
For the Ever-supportive Mom Friend
She's everyone's listening ear and shoulder to cry on. A versatile, low-maintenance and simply elegant jewelry set makes for an ideal gift. Practical and always fashionable, she can't go wrong with a put-together set, the same way you can't go wrong with keeping her friendship.
For the Hopeless Romantic Single Lady 
Ever came across the quote, "Until it's my turn, I clap for the success of others"? While she may be the first to say "Sanaol" whenever one of the ladies introduce their S.O., she's also the first to be happy for and wish her the best. Show your romantic single friend that you're rooting for her and wishing her the same happiness she hopes for with dainty heart necklaces. While waiting for her own romance, it's a fitting reminder that true love comes in the form of true friends, too. 
For the Fashion-forward Jet-setter
On-point for the 'gram yet comfy from airport to destination — this is what the squad jet-setter is all about. Edgy or basic stud earrings look great on-cam and are an easy way to accessorize breezy and dressy outfits alike. Not to mention that they also work well for a number of outdoor activities. She'll love earrings she can take from the hotel room to the beach to anywhere she's off to!
For the Go-getter Career Woman 
Work is life, and having a stunning corporate wardrobe to wear to work, is lifer, for your girl. Complete her lady boss closet staples with sleek, minimalist layered necklaces that scream crisp, clean and polished. Add a personalized, power move kind of flare by getting the pieces engraved with her monogram. 
For the Artsy, Boho-chic Tita
Whimsical and colorful are two words that describe the aesthetic of your creative tita friend. This means that when it comes to gifting, you have a lot of choices: from statement earrings to rhinestone rings with subtle pops of color to necklaces with unique pendants that add just the right amount of quirkiness to her looks, you can get them here. Top off with a cute note that says, "these are just SO YOU." 
Kick off your holiday gift shopping with SilverWorks. Browse our extensive collection, and you'll surely find something that brings out the sparkle in each of your girl friends.