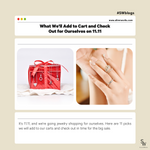 What We'll Add to Cart and Check Out for Ourselves on 11.11
If you're a follower of our #SWBlogs, you'll know that we love our jewelry lists. We've suggested lists for various occasions these past few months, but for 11.11, we have something a little bit different.
We're letting you in on what we want to get for ourselves from SW Lazada and Shopee this 11.11. Read about our picks here: 
Silverworks Hazel Geometry Rectangle Silver Necklace
Ilise Silver Hollow Beads Cross Chain Adjustable Ring
"Been eyeing them since they were launched as website exclusives in September. As they're going on sale, it's the best time to get my hands on them!" 
Silverworks 2-in-1 Dome Crown Ring 
"I love crown rings, and when I get engaged, I hope to have a ring in a similar design. While that's not in the cards just yet, a lovely crown ring will do."
Mio Mio by Silverworks Double Twisted Bangle & Ring w/ Pearl
"Looks very high-end and is also made of stainless steel. It's a great dupe for more expensive brands; I can get away with wearing them, and everyone will think I look rich without knowing that I'm spending just a fraction of the high-end version's price!" 
Mio Mio by Silverworks Snowflakes Earrings & Necklace Set 
"My holidays will be cold again but that's the way I like it. Haha! Well, the cold never bothered me anyway, and this set is very cute. I think I will wear it throughout the season."
Mio Mio by Silverworks 4 Sets Assorted Size, Color Flower Earrings
"I'm a simple person: I see rose earrings online, I add to cart. I see a set of four pairs of rose earrings online on 11.11, I checkout. They're so easy to wear; all I need to do is pick which color to put on for the day. I can even pair different colors or even sizes together if I'm feeling quirky."
Silverworks Promise Ring 
"These past few years were about me recovering from my mental health issues and regaining my self confidence. I think a promise ring is perfect for commemorating my recovery and commitment to my wellbeing: a promise to never lose myself again."
Mio Mio by Silverworks Open-Bangle w/ Heart in Halo 
"I have some events lined up this month, and I think this bangle will go well with many of my formal wear."
Silverworks Brilliant Edgy Stud Earrings
"Small yet modern and sparkly. It's also ok to wear to school, so I think my younger sister will definitely be borrowing (or stealing) this often." 
Mio Mio by Silverworks Gold Plated Drop Earrings
"Extra and very lady boss vibe. And stainless, too.  'Nuff said." 
Silverworks Surprise items in a box sparkling holiday gift
"Since I don't get surprises, I'll surprise myself."
Are any of our picks yours, too? Visit our
Lazada
and
Shopee
stores and add to cart today. Make sure to check out on 11.11!