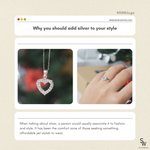 WHY YOU SHOULD ADD SILVER TO YOUR STYLE
Silver is the undeniable contender of gold when it comes to the most common and precious metals.
Historically speaking, silver was the centerpiece of ancient mythical legends and scientific research. From Ancient Greek and Egyptian royals wearing silver adornments, to the Bible with silver as one of the materials used to make the Tabernacle, it was apparent that silver was a huge part of the past and continues to be relevant in the present.
When talking about silver, a person would usually associate it to fashion and style. It has been the comfort zone of those seeking something affordable yet stylish to wear.
More often than not, silver does a lot more than just level up your style! Let's look at some of the reasons you should add silver to your style:
Silver adds a touch of your personality.
Wearing silver pieces adds a distinct touch to your personality; it has ways of evoking an impression about you. A curious glimpse of your silver accessories can speak about your fashion and sense of style.
For instance, bright and bold colors evoke a colorful personality. Meanwhile, having smaller jewelry pieces denote more of the minimalist mindset and disposition. Whether at a party or formal events, donning your silver blings accentuates your look and is a nod to your personality style.
Silver highlights your features.
Choosing the right silver accessories does wonders to highlight your best features. Wear silver necklaces if you want to bring attention to your neck and face, and wear a pair of large silver earrings while going for a smaller necklace to highlight your face more.
Silver is also great to use in formal events, especially when your dress brings emphasis to certain features due to its cut and fit, adding a dash of class to it.
Silver adds a color accent to your look
When going out on a regular day in casual clothes or off to a formal function in a dress, silver jewelry stands out not only because of how comfortable they feel, but it also adds that much-need luster to your overall look.
An all-black styling would present a different glow and sheen when worn with silver pieces, and wearing it with different fashion accessories offers a distinct look each time.
Silver is durable for long-time use.
Silver as a metal can last for almost a lifetime, without you worrying about your accessories snapping and breaking after a few uses - such is the case for Sterling silver.
Sterling silver pushes the durability further while maintaining its purity, and wearing it highlights extravagance and luxury, with an assurance that you can wear it for a long period of time.
Silver is easy to clean and maintain.
Depending on the type of silver you wear, its luster can be maintained without staining. Sterling silver is durable but is prone to air tarnishing, which can be solved by having it cleaned to regain its shine.
Household items such as baking soda can be used to clean silver jewelry, while aluminum foil can be used to clean silver necklaces.
Silver is hypoallergenic.
If you are stylish and a fan of jewelry but have delicate or sensitive skin, then silver is the perfect partner for you.
Sterling silver pieces have 92.5% pure silver, and the remaining 7.5% include other metals such as copper. You have nothing to worry about if you wear quality and good silver accessories made from these!
Clearly, there is more to silver than meets the eye, and it truly offers more than we know!
If you don't have enough silver accessories yet, maybe this is the sign that you must incorporate more silver in your life.
Get your silver jewellery at www.silverworks.com today!