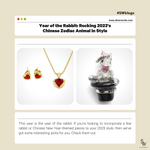 Year of the Rabbit: Rocking 2023's Chinese Zodiac Animal in Style
Whether or not you're into astrology and following annual zodiac forecasts, you're sure to be in the know about Chinese zodiac animals. You see them everywhere, from newspapers, to social posts, to mall displays. If you're quite the fashion maven, you may even see or want zodiac-inspired designs and items in your closet. 
This year is the year of the rabbit. If you're looking to incorporate a few rabbit or Chinese New Year-themed pieces to your 2023 style, then we've got some interesting picks for you. Check them out. 
Dainty Earrings
Rabbits are believed to signify agile elegance. Quick on their feet while keeping a graceful stance, this animal is also central to a number of folktales and myths, even signifying the Moon Goddess, Chang E. Dainty jewelry in rabbit designs are a great way to combine cuteness and elegance in style. 
If you're more about accessories for everyday wear, then a simple and neutral design might be up your alley. These pairs look great for second-look appreciation, not immediately noticeable yet adds a subtle flair to your getup. 
Charming Charms 
Versatility is another trait of the rabbit, as it thrives in varying environments, similar to charms which you may pair with basic jewelry or use as accessories in themselves. Use them to spice up your bracelets and necklaces. You may also want to hang them on your bags and gadgets. 
Lucky Reds
Not fond of wearing cute animal designs and still want to get into the new year spirit? You can't go wrong with wearing red. Reds are a staple for Chinese New Year as it is believed to be the color of luck and protection from malevolent spirits. Check a few of our red selections out. 
Want to cop these? Shop them here at our website, or, visit our stores for more unique finds that are sure to get you into the celebratory mood. Gong Xi Fa Cai!