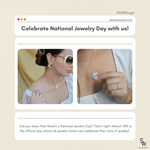 CELEBRATE NATIONAL JEWELRY DAY WITH SILVERWORKS!
Did you know that there's a National Jewelry Day? That's right—March 13th is the official day where all jewelry lovers can celebrate their love of jewelry! It's also a special day that recognizes the makers, the jewelers, and the pieces. So in celebration of all things shiny, blingy, and sparkly, we've put together a 101 guide on jewelry. 
Scroll down to get the lowdown on different types of jewelry, materials available, and even some of our favorite pieces.
Common Types of Jewelry 
Rings
A ring is a circular band usually made of metal and worn on the finger. Popular rings include signet rings, engagement rings, wedding rings, class rings, and ring stacks. Rings offer a simple way to accessorize and add style to any outfit, which is why we absolutely love them. They are versatile pieces of jewelry as they can be worn on multiple fingers and also with different outfits.
Necklaces
A necklace is a piece of jewelry worn around the neck. There are numerous styles and lengths to choose from when it comes to necklaces. Chain necklaces can be worn with a charm or pendant, solo, or layered together for more impact. Like rings, necklaces are an easy way to add a touch of glam to any ensemble.
Earrings
Earrings are jewelry pieces attached to the ear via a piercing in the earlobe or another external part of the ear. Popular types include classic hoop earrings, studs, and huggies. Earrings frame the face and can quickly elevate any outfit, from casual to elegant.
Bracelets
A bracelet is an ornamental band or chain worn around the wrist or arm. When it comes to bracelets, the options are endless. Available styles include bangles, charm bracelets, cuffs, tennis bracelets, gemstone bracelets, and chain bracelets. Bracelets can express your unique style, whether you like subtler, simpler bracelets or ones with more bling.
 Common Metals Used in Jewelry
Gold
Gold is relatively soft and malleable, which makes it easy to shape. It also has a high melting point, which makes it very durable. Because gold is a very malleable metal, it can be easily worked into jewelry.
Silver 
Silver is a versatile metal used in many different types of jewelry. It is a very durable metal and can be made into a wide variety of shapes and sizes. Silver is an affordable alternative to gold and is also a great choice if you want something that will stand the test of time. 
Silverworks X2725 Hoop Earrings (Silver)
Platinum
Platinum is a silver-white metal with a high luster. It is easy to polish and is very strong. It is also more expensive than pure gold or white gold and is often used in the making of fine jewelry.
Stainless Steel
Stainless steel is made from chromium, nickel, and titanium. It is a great metal for jewelry because it is durable and can withstand the wear and tear of everyday activities. It also resists corrosion and tarnishing.
Polished Heart Design Earrings and Sliding Necklace Set
Titanium
Titanium is a silver-colored, high-strength metal with a lustrous appearance. It's three times stronger than steel while being three times lighter; it's also hypoallergenic and resistant to dents and rust. Gray and black are the most traditional titanium hues.
Tungsten 
Tungsten has the highest melting point of all metals and is four times harder than titanium. Tungsten also resists corrosion. It's so strong that it can't be bent, which means it can't be resized. Polish for tungsten jewelry can be permanent, requiring little maintenance.
Izumi Grooved Two-Tone Tungsten Ring with Diamond
How to Care For Your Jewelry
Store your jewelry in a safe place away from dust, moisture, and other elements that could damage your jewelry. And if you need jewelry storage and organization ideas, make sure to drop by our previous blog,

JEWELRY STORAGE IDEAS YOU NEED TO TRY

.

Take off your jewelry when doing chores, playing sports, or going to the gym.

Don't wear your jewelry to the pool, spa, or sauna.

Don't sleep in your jewelry.

When traveling, bring easy-to-carry pieces with you.

Clean your jewelry gently and use only cleaners recommended by reputable jewelry stores. Use cleaners specifically designed for your metal.

SilverWorks has a

Silver Polishing Cream

, and it even comes with a cleaning cloth for easier cleaning of your accessories.
Shop our Silver Polishing Cream with Cloth HERE.
When a piece of jewelry is broken, it's best to get it fixed as quickly as possible to avoid further damage. Any loose bits should be collected, as the jeweler may be able to use them in the restoration. SilverWorks offers jewelry repair services, so your fave pieces stay as good as new for as long as possible. Reach out to know more!
National Jewelry Day is a great time to celebrate all things jewelry. Whether you're looking for a new piece of jewelry or just need a little pick-me-up, you can find great deals at SilverWorks, the leading retailer of sterling silver jewelry in the Philippines.