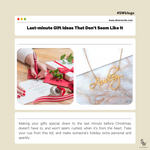 Last-minute Gift Ideas That Don't Seem Like It
We're counting down to the final few days before Christmas. It's time for last-minute shopping sprees, if you're not yet done shopping for gifts. Sure, you may be scouring options for gifts down to the last day, but your recipients don't need to know. Easy presents can still seem well-thought-of. Here are a few ideas you may choose from: 
Personalized Anything 
Anything with one's name on it feels special. Take the personalized item up a notch by opting for gifts that don't just have your loved one's name slapped on it. Why not go for something engraved or embossed? 
And, while you're at it, you may also opt for other "engravables" or "embossables" apart from your recipient's name, like a photo of their pet, their favorite word or character in another language, among other things. 
Favorites List
Taking time (yes, even the last minute) to get your loved one's favorite for them is a sure way to bring a smile to their face. If you don't have a specific item in mind, you may get them something in their favorite color, material or brand. The idea is to get them something that you know they will surely like, and make them see that. Checking their faves is a foolproof way to do that. 
Crafty Treats 
Handmade gifts take time to perfect, but, if you're an expert at your chosen craft, it's almost like breathing. And, it will surely be one of a kind. Whether it's a cute trinket or a yummy baked treat, something you clearly worked hard on is a gift that won't ever look last-minute. 
Message from the Heart 
This can be the final loving touch to anything you choose to give to your friends and loved ones. If, however, this is all you can give, then know that it will be appreciated. A heartfelt handwritten letter or card can be all that one needs for that warm and fuzzy holiday feeling. 
Making your gifts special, down to the last minute before Christmas, doesn't have to, and won't seem, rushed, when it's from the heart. Take your cue from this list, and make someone's holiday extra personal and sparkly.