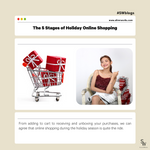 The 5 Stages of Holiday Online Shopping
Whatever the season, online shopping can be the ultimate self-treat, and for good reason: it's a fun and easy way to reward yourself for all your hard work. The holidays in particular are a great time to go on an online shopping frenzy, as your purchases will not just be small rewards for you; they'll be special, well-deserved gifts you have worked and saved up for in the past months. 
Here are the 5 stages of your holiday shopping experience that make it oh-so-satisfying. 
Adding to Cart
You see it. You want it. You add it to your cart. It's definitely a lot of fun just piling on the items, giving you that retail therapy high, without breaking the bank (yet). The interesting thing about marketplace algorithms? The more you add to your cart, the more options for similar items they bump up on your personal shop feed. So, expect to sift through almost endless selections and stumble upon different deals. 
Removing from Cart
Here comes the slightly sad part of your online shopping spree: removing items from your cart, because, of course, you don't want to go overboard on the spending. After going over similar items, you look through reviews and deals, and after much consideration, decide which ones will make it to checkout. 
Checking Out
This is your moment of truth which will give you a run for your money, literally. Regardless if you're paying online or via COD, this will prompt you to check if you have enough funds to cover what you're looking forward to check out. Still, once you hit the checkout button, the anxiety that came before does nothing to dampen the excitement that comes with knowing your haul is on its way. 
Tracking Your Delivery
Opening your shopping app to check your order status and count down on your estimated delivery date is exciting. But, when the app shows that your parcel's stuck somewhere, it can be the most annoying thing ever. What an emotional rollercoaster ride it can be, waiting for your order to get to you! 
Parcel Received and Opened 
Finally, your parcel has arrived! Nothing quite like getting your order after days of anticipation and seeing that it's exactly how you want it, or not. 
If it is, then congratulations! Your online shopping spree has ended on a high note (for now). If not, then it's up to you to get into these 5 stages again, or not. Regardless, we can all agree that it's quite the ride, right?