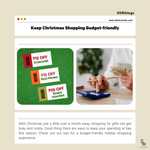 Keep Christmas Shopping Budget-friendly
With Christmas just a little over a month away, shopping for gifts can get busy and costly. Good thing there are ways to keep your spending at bay this season. Check out our tips for a budget-friendly holiday shopping experience. 
Choose whom you'll give presents to. 
Christmas is a time for giving, but it doesn't have to mean going broke in the process. Just because you have parties and reunions lined up doesn't mean you need to get everyone a present. Prioritize people who really are a gift in your life. True friends, family, your SO, are some of those people. 
When gifting the special ones, strike a balance between saving money and still not scrimping. Set a maximum budget for each present, and let that narrow down your choices for you. 
Start gift-hunting early. 
Once the -ber months hit, vendors are already poised to get those deals coming. It's a good time to start building and completing your gift list. Unsure of what to buy? Go window-shopping for ideas and canvassing prices. 
Don't be tempted to buy on impulse, whether you're shopping online or in-store. Online, read product reviews and look at the available items from your trusted brands first. Same goes for in-store shopping. If you feel like hitting check out already, try to do it by batch. Say for example, check out some items during the September payday sale, and line up the others for the following month or by the next sale, to space out your spending. 
List down your gift ideas/pegs to shop and where you usually shop them.
If you're gift-hunting in the last few weeks leading to December, make sure you're already clear on what you want to buy and where you will get them. Scour your go-to brands to complete your list and check your recipients' favorite brands. For online stores, inquire, discuss and make sure they can deliver when you need them to. This will lessen the time spent thinking about what to give and where to get them.
Read the fine print on sale promotions. 
With retail brands becoming more aggressive in pushing their promos, you won't have a hard time looking. You may, however, have a hard time choosing the best deals. Don't get carried away with huge percentage discounts and freebie offers; they often apply only to a limited selection of items.  Ask what the promotions apply to, so you can make sure that you're getting a steal. 
This Christmas, add sparkle to the lives of others without losing yours. Give simple, well-thought-out gifts, and keep it within your means. Sparkly, and budget-friendly, holidays!